Competition!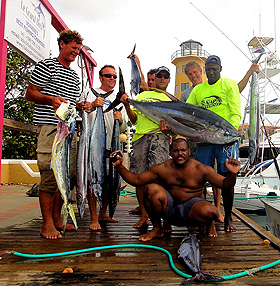 We are not the only boat on Bonaire offering big game fishing charters, but we are, in fact, the only boat that actually does fish for big game. One competitor in particular, claims that he "consistently enjoys the highest average catch of all fishing boats, and has multiple tournament wins in both local and international competitions".
That is a blatant lie and sadly there are no advertising rules on Bonaire which would forbid these false claims.
Fact of the matter is that this boat neither has the equipment nor the skill to catch the big fish and simply trawls for little barracudas, which we would consider by-catch, along the reef. The boat does not even compete in the local competitions.
Anyone looking for the thrill of big game fishing will be utterly disappointed there. Only the Grand Bleu offers proper big game fishing and only the Grand Bleu consistently brings in the specimen Wahoo, Tuna, Marlin, and Sailfish that you have come to fish for and she is the only boat with the required safety equipment.